An estimated 75% of all adults in the United States use some sort of eye correction and approximately 75% of those people wear eyeglasses. Lock Family Eye Care has everything you need to find a proper pair of eyeglasses in West Des Moines.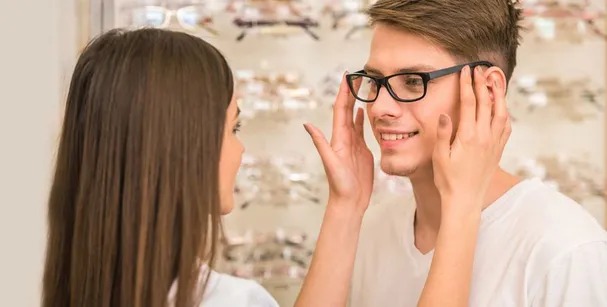 Reading Glasses vs. Eyeglasses
You may be wondering, "why should I make an eye doctor appointment rather than just pick up a cheap pair of reading glasses?" Reading glasses are available in most drug stores. But, visiting an optometry clinic is the best policy.
Eye exams are not only useful when determining a prescription for glasses; an exam also helps detect eye diseases like glaucoma. Early detection prevents long-term vision damage. Using glasses not prescribed with the right corrections will cause headaches and eye strain. It is also important to note that dollar store reading classes will not work for people with astigmatism.
Eyeglasses for Children
Vision problems can start early in life. Below are some warning signs that may indicate your child needs eyeglasses.
problems reading
sitting too close to the TV
squinting and tilting their head
constantly rubbing their eyes
light sensitively
eyes excessively watering
closing one eye to see better
headaches or eye fatigue
lower grades at school
When you notice these red flags, contact the eye doctor. The easiest way to ensure that your child wears a new pair of glasses is by allowing him or her to pick out the frames. Both style and comfort go a long way when it comes to eyeglasses. When selecting new eyeglasses be sure to keep in mind the sturdier the material; the longer the eyeglasses will last.
Certain Tasks Come With Certain Vision Problems
Visiting your eye doctor annually is the best approach to maintaining eye health. However, eyesight can change between those visits. It might be age-related. Presbyopia changes your vision when you get older. The lack of clarity starts at about arm's length.
A common symptom happens with computer users that wear bifocals or reading glasses. The issue needs an optometrist's expert opinion on how to improve overall vision. Computer eyestrain is also a cause of diminished eyesight while doing specific activities. Computer glasses are available to use for that particular task, however, those glasses are not for things like driving and sports.
Extending the Lifespan of Eyeglasses
Eyeglasses are investments. Here are some tips to protect that investment when selecting glasses.
For children, the prescription sometimes changes rather quickly. Try only replacing the lenses. Buying new frames every time is rarely cost-efficient.
Trendy frames go out of style quicker than a child's prescription changes. Maybe stick to the basics instead.
Spring hinges give frames am outward flex that keeps the frames safe from breaking.
You can request a scratch-resistant coating on the lenses to protect them.
Eyeglasses From Lock Family Eye Care in West Des Moines
Dr. Michael Lock and Dr. Jenessa Lock provide expert optometry care to the West Des Moines area. At Lock Family Eye Care we pride ourselves in getting your prescription right and providing the best advice possible about vision correction options. Call us today at (515) 267-1312 and let us help you find the perfect pair of eyeglasses.