Are you tired of wearing glasses? Would you like to have another option for formal occasions? Do you want to show off one of your best features? If so, then contact lenses might be the right corrective lens choice for you. Our West Des Moines optometrists, Dr. Michael and Dr. Jenessa Lock can help you determine whether you are a candidate for contact lenses and help you decide what type will be the best fit for both your eyes and your lifestyle.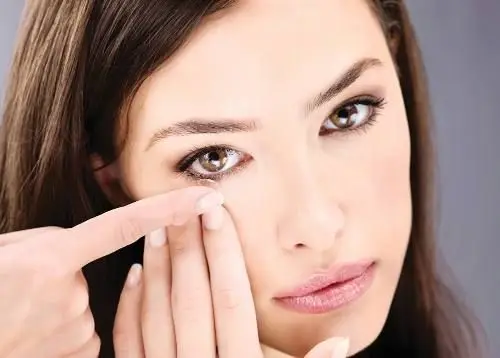 What type of are contact lenses right for me?
When helping you select a type of contact lenses, our optometrist will help you base the decision on your corrective lens prescription, lifestyle, and personal preference. For example, a patient with astigmatism requires a different type of lens than an individual with presbyopia. There are also options available for daily wear, extended wear, and cosmetic lenses. An optometrist will help you find the right lenses.
What does a contact lens exam entail?
Usually scheduled in addition to a comprehensive eye exam, a contact lens involves all of the tests and examinations which take place during a normal eye exam with a few additional tests and measurements. During the appointment, our optometrist evaluates the patient's eye health, function, and visual acuity to determine whether contact lens wear is safe and feasible. He or she will then take several measurements of the patient's eyes in order to ensure the lenses on order are the proper size.
What happens during a contact lens fitting?
For patients new to wearing contact lenses, we schedule a lens fitting with a professional. We will show you how to insert and remove your contact lenses, and also how to properly clean and store them.
Why do I need to schedule an annual appointment for contact lenses?
During an annual contact lens evaluation, our optometrist will evaluate the ongoing health of the patient's eyes in addition to re-checking visual acuity to determine whether a new prescription is necessary.
Is it safe to shower or swim while wearing contact lenses in Urbandale?
We do not recommend swimming or showering while wearing contact lenses in Urbandale. Not only can a lens easily be washed from the eye with a slight splash of water, their permeable material can absorb and trap chemicals from pool water in addition to bacteria and other potentially harmful microbes.
West Des Moines Contact Lenses Services with Lock Family Eye Care
At Lock Family Eye Care, we provide patients with a wide variety of extended wear, daily use, specialty, and hard to fit contact lens options to suit almost every patient's needs. If you would like to learn more about Lock Family Eye Care's West Des Moines contact lenses or to schedule a contact lens evaluation, we encourage you to schedule an appointment with one of our optometrists at (515) 267-1312.